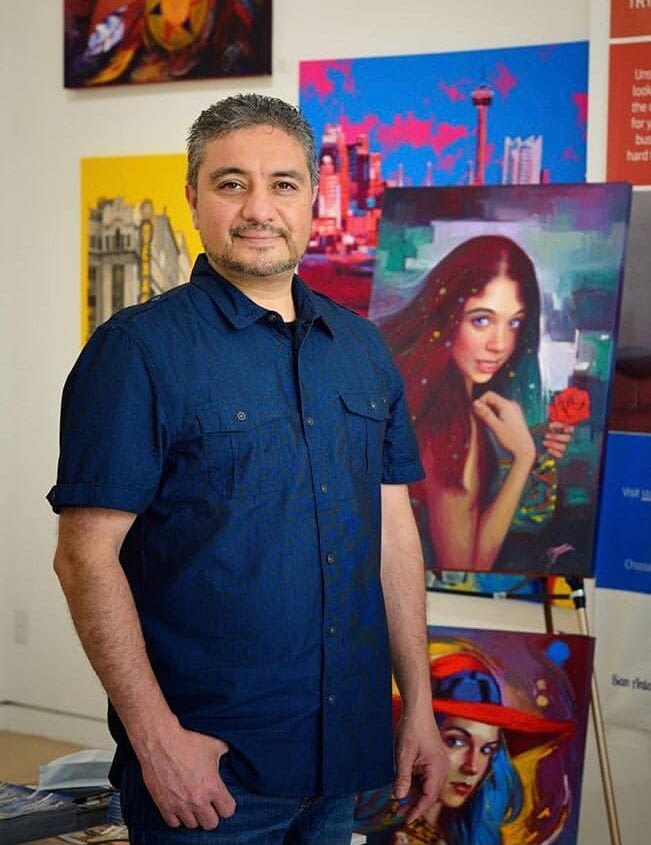 Robert Garza in San Antonio Artist Collective, Art Gallery at The Shops At La Cantera.
Robert Garza is an expert at combining classic and contemporary styles into rich, vivid paintings as well as beautifully composed portrait commissions. 
He meticulously applies elements of design, color and figure to tell the story behind his portraits, placing special focus on the eyes as a way to invite the viewer to enter and experience our common humanity.
Robert's appreciation of human differences mixed with strong native Texas and Mexican cultural influences run deep throughout his works.
Robert developed from an early age familiarity with the mixture of colors, smells and techniques since his father made cartoons for a newspaper in Mexico.
At the age of 18 he made his first artwork in Oil, a reproduction of Peter Paul Rubens that before finishing it, he already had a buyer. 
His career began in Plaza Mexico, a well'known square in the Center of Monterrey that every tourist visits. There he made  portraits of the public posing live, broughting him a lot of learning in the beginning of his career, which motivated him to improve by which he archieved the exclusive at Sears and Liverpool creating works of art and portraits within these department stores with success.
Wanting to share his love for art, he decided to create a Tv program motivating children and adults to develop their creativity by enjoying art through Filipo, a muppet who asked all the questions or doubts the viewers might had.
He  has appered in magazines, newspapers and he was intervieved in San Antonio for making a custom painting for the famous basketball player of the San Antonio Spurs, Lonnie Walker.
He also has made paintings for the governor of Monterrey, for the attorney General of Nuevo Leon, successful athletes and artists, as well as Political personalities, Educational and Government Institutions.
One of Robert's greatest archievement was to paint the former the former president of Mexico "Venustiano Carranza" this artwork was used by the Mexican Postal Service (SEPOMEX) for the design of a postage stamp in homage to the 100 Death Aniversary of this character. Distributed int he network of post offices for the use as a means of postage in letters and packages that circulate throughout the national territory and internationally with the aim of spreading the national culture.
Robert has always had a restless spirit and eager to learn and experience new things. He moved to San Antonio Texas to start a new challenge, create a total change in his life by experiencing the diversity of cultures as well as the language. With a firm and determined character, he put aside his fears and devoted himself to do what he loves the most, which is painting, capturing and creating moments of happiness for other people.
He currently has a gallery at the Randolph Air Force Base called Robert's Fine Art and on weekends he paints at another gallery in La Cantera called San Antonio Artists Collective.
Robert is convinced the art is a way of supporting others to make a better world by contributing to large charitable institutions. He also shows his gratitude to the country by supporting veterans and armed forces.
The purpose of Robert Garza is "the art of creating happiness".